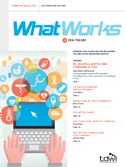 If you haven't already, I would highly recommend that you download "What Works in Healthcare", the Summer 2013 special report published by The Data Warehouse Institute (TDWI).
The TDWI is always an outstanding resource for healthcare business intelligence (BI) and analytics professionals, and this special report provides special focus on the specific BI and analytics needs of healthcare.
Some of the many articles in this report include:
an extract of Laura Madsen's book Healthcare Business Intelligence (which should be on the bookshelf of every healthcare business intelligence, data warehouse, or analytics professional),
numerous case studies on how healthcare BI and analytics have enhanced patient care and reduced costs (including a case study on optimizing patient flow at Johns Hopkins Hospital), and
lessons from the experts that provide healthcare industry perspectives on business intelligence and data warehousing best practices and trends (including five strategic imperatives that must be addressed when tackling big data within a healthcare organization).
Definitely add this highly informative report to your library as a healthcare business intelligence and analytics resource worth reading.