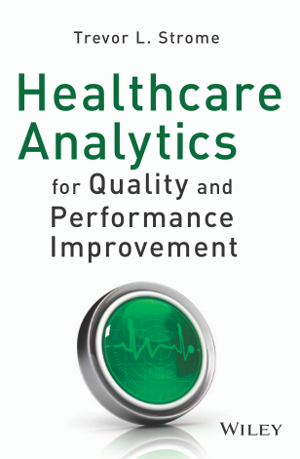 I am very excited and proud to announce that I received the first copy of my new book, Healthcare Analytics for Quality and Performance Improvement, by courier from the publisher, John Wiley & Sons, late last week. That means that the book is shipping from the publisher and should be available from major outlets on or around it's official publication date of October 14th.
I am excited about this book because it represents what I have learned and experienced in the field of healthcare analytics and how analytics can be applied on the front-lines of healthcare to enhance quality, improve safety, and increase the efficiency of healthcare.
The twelve chapters in the book cover topics ranging from developing an analytics strategy that helps drive quality improvement, working with data, managing data quality, advanced (and predictive) analytics, data visualization, and applying analytics throughout quality improvement initiatives. For a more thorough summary of the book's contents, please visit the book's website and download the chapter summary and book overview.
In addition, the book comes with access to additional resources on the website that include downloadable templates, forms, presentations, and links to third-party websites. The web-based resources will be continually updated and expanded as new tools, techniques, and systems relevant to healthcare analytics become available.
I invite you to visit the Healthcare Analytics for Quality and Performance Improvement website and I welcome any comments or suggestions you might have.