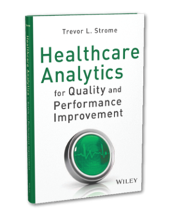 It's hard to believe that it will be two years next month since my first book "Healthcare Analytics for Quality and Performance Improvement" was published, in October 2013, by John Wiley and Sons, Inc. Since the book was published, it has been the selected textbook for many health analytics and health policy classes at institutions such as UCLA, and has been used by healthcare analytics professionals around the globe to expand their healthcare improvement toolbox.
To help celebrate this exciting milestone, between now and December 2015, I'll be releasing some new material, and updating some original material that appeared in the book. One of the updates will include a major revamp of the resources section of the website to better organize existing resources and include new resources that have come on-line since the book was published. I have been working on the addition of new material as well, including hands-on examples of healthcare analytics problems and solutions (including source code in R and/or Python where applicable), and I'll be adding some new slide decks (including an "Introduction to R" tutorial).
Thanks to everyone who has read my book, and especially those who have provided feedback. It is because of your feedback that I can continue to update resources and references, and add fresh new material. I am looking forward to keeping the content up-to-date and relevant to this quickly evolving field of healthcare analytics!
More about my book:
To learn more about Healthcare Analytics for Quality and Performance Improvement, click here  for more information and to download a free sample chapter. To purchase a copy of the book, follow this link to order on Amazon.com.