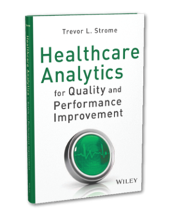 Naturally, I get asked a lot of questions about what topics and content my book "Healthcare Analytics for Quality and Performance Improvement" covers. This is especially so because healthcare analytics is a very expansive topic, and the audience for such a book is wide-ranging. To find out more about my book, you can download a free copy of Chapter 1, and view a detailed chapter summary of the book.  I have also included below, for convenience, the overview taken from the book's preface; by reading the summary below, you should get a feel for if the book is right for you and/or your healthcare organization. If you have any specific questions, please don't hesitate to contact me at Trevor@HealthcareAnalyticsBook.com.
Overview of "Healthcare Analytics for Quality and Performance Improvement"
After a discussion of the escalating inefficiencies and costs of healthcare (Chapter 1), a high-level overview of the various components of an effective analytics system within an HCO is covered in Chapter 2. Because of the need for strong alignment between the quality and process improvement goals of the organization, various pressures facing healthcare IT departments, and the balancing that analytics does between these two, Chapter 3 provides an overview of key components of an effective analytics strategy that HCOs can use to keep their focus on efforts that achieve the desired improvement results of the organization. Chapter 4 is an overview of the concepts of quality and value, and how these are measured within an HCO. Three quality improvement methodologies (PDSA, Lean, and Six Sigma) are discussed in Chapter 4 as well, and how analytics can provide support to these various types of initiatives.
Chapters 5, 6, and 7 focus on data. Chapter 5 is an overview of data quality and data management, and how to ensure that analytics professionals and stakeholdershave access to the high-quality data they need in order to provide information and insight to the organization. Chapter 6 discusses the different types of data, important methods of summarizing and understanding data, and how data type affects the kind of analysis that is possible. Chapter 7 provides tips on how to convert data into metrics and indicators that provide the HCO with a much clearer lens through which to monitor and evaluate performance and quality.
Chapter 8 is about how to merge analytics and quality improvement  activities so that QI teams can benefit from the insight and information available throughout all phases of QI projects, regardless of the QI methodology that is chosen. Chapter 9 highlights several of the key statistical and graphical methods for monitoring performance and detecting when in fact a true change in performance or quality has occurred. Chapter 10 talks about usability of analytics from an access and presentation point of view. The advanced analytics discussed in Chapter 11 include tools such as regression and machine learning approaches that can be used to identify patterns in healthcare data and predict likely outcomes.
Finally, Chapter 12 discusses achieving analytics excellence within an HCO, including the types of leadership and management required within an HCO to ensure that data and privacy are held secure and that analytics are used appropriately and to their maximum effectiveness.