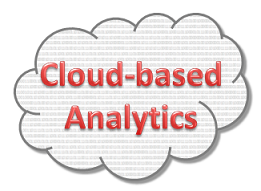 This is a summary of a recent article I wrote for SearchHealthIT.com. 
The promise of cloud-based analytics
Because of the computing power, data storage, and network bandwidth that some modern analytics and simulations require, the healthcare industry requires cost-effective and scalable solutions. Cloud-based services offer a promising option.
Many of the reporting and analytics tools used by today's healthcare decision makers are quickly becoming outdated. Months-old data on static reports no longer do the job; clinical and business insight is increasingly based on algorithms that ingest and process large volumes of myriad types of data.
As the analytics needs of decision-makers, data scientists, and healthcare analysts continue to expand (and possibly outgrow a hospital's capability to provide the necessary tools and infrastructure), stealth implementations (such as rogue databases and unauthorized tools) will crop up. These approaches negate any efficiency that enterprise business intelligence (BI) and data warehouses create, and they introduce obvious security risks and support challenges.
Benefits of cloud-based analytics
One option being looked at by many healthcare organizations (HCOs) is cloud-based analytics. Such solutions can potentially address cost and scalability concerns as part of an overall analytics solution. HCOs must consider many factors, however, when exploring an emerging technology like cloud analytics. According to a 2012 survey by Gartner Inc., the results of which still hold true, there are three main factors driving the adoption of analytics and BI in the cloud:
Time to value
Cost concerns
Lack of available expertise
There are many advantages to including at least some component of cloud analytics in a healthcare organization's overall IT and analytics strategy. SmartData Collective lays out some of the advantages a healthcare organization can expect:
Spending more time analyzing data
Accessing multiple tools
Increasing analytical flexibility
In conclusion
Healthcare organizations should investigate the various options, risks and benefits of cloud-based analytics deployment to see if such solutions are a proper fit and would provide an advantage over traditional healthcare analytics software. Cloud analytics products are a viable choice (from cost, efficiency and computing power perspectives) for IT directors facing increasing information demands and increasingly scarce resources.
Follow this link for the entire SearchHealthIT.com cloud-based analytics article.