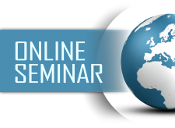 I am pleased to announce that I will be presenting a two-part series entitled "Healthcare Analytics: A Strategic Framework for Quality and Performance Improvements" in collaboration with the National Institutes of Health Informatics (NIHI). The two-part series will be offered on October 8 and 15 at 12:00 PM ET. Click here for more information and to register.
Using real-life success stories and lessons learned from the front-lines of healthcare, this two-part series will enable attendees to accelerate the transformation from relying on generic reports and dashboards to achieving truly useful Quality Improvement (QI)-focused analytic information and insights.
This series will provide healthcare decision-makers, analysts, and improvement specialists with a strategy development and execution framework that will immediately improve analytics effectiveness and return-on-investment within your health care organization.
It will provide the tools and skills necessary to develop analytics strategies that fit the quality and performance improvement needs of your health care organization.
The sessions will also discuss the analytical tools for leveraging healthcare information technology (HIT), data from source systems, and proven Quality Improvement (QI) methodologies to make more insightful, fact-based decisions for an HCO.
Please visit my blog again as the presentation date approaches, as I will be adding in more details about the seminar and providing some sample content.
I am looking forward to working with NIHI on this online series. I hope you can join us!