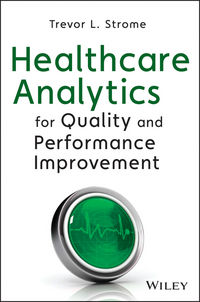 Chapter 1 available for download
I am pleased to make Chapter 1 of my book Healthcare Analytics for Quality and Performance Improvement available for free download! (Click here to download Chapter 1.)
Entitled "Toward Healthcare Improvement using Analytics", Chapter 1 sets the premise of the book, that healthcare analytics are a necessity if healthcare organizations want to achieve their quality and performance improvement goals. Specifically, Chapter 1 highlights the current challenges and pressures facing healthcare, identifies opportunities for healthcare transformation, and discusses the important role that analytics has in driving innovation and achieving healthcare transformation goals.
Book available for purchase now!
Healthcare Analytics for Quality and Performance Improvement is available for purchase at Amazon.com.
More information about the book
You can also read chapter summaries of the other chapters in the book by downloading the free Book Overview and Chapter Summary document.
Thanks!
To those who have already read the book, I would like to thank you very much for your tremendous feedback!